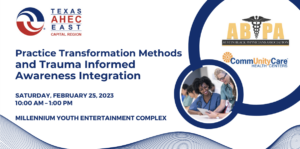 The Texas AHEC East Capital Region will host a community learning opportunity as part of the new AHEC Learning series:
Practice Transformation Methods and Trauma Informed Awareness Integration in Health Care Settings
Panel discussion led by physicians from the Austin Black Physicians Association and mental health providers from CommunityCare
Saturday, February 25, 2023, from 10:00 am – 1:00 pm
Millennium Youth Entertainment Complex | 1156 Hargrave St in Austin, Texas 78702
Light refreshments and limited giveaways for the first in attendance.
This series is for students focused on careers in the health professions including but not limited to: physician, physician assistant, nurse practitioner, nurse midwife, or nurse.
Community health workers, and public and allied health professionals are asked to attend as well.
All AHEC and non-AHEC Students, school faculty, and staff are also welcome to attend.